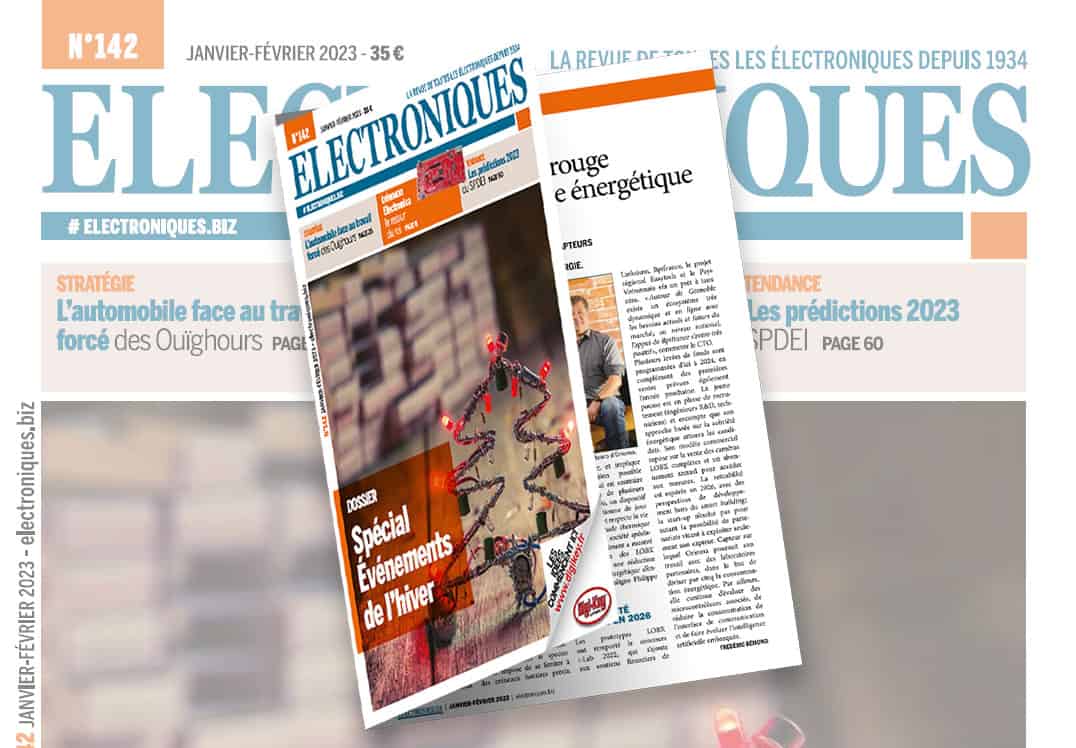 ELECTRONIQUES Magazine #142 – JAN-FEB 2023
START-UP OF THE MONTH
Orioma relies on infrared to reduce the energy costs of buildings
THE YOUNG COMPANY BASED NEAR GRENOBLE IS DEVELOPING SELF-POWERED SENSORS TO MONITOR THE PARAMETERS OF A ROOM AND THUS OPTIMIZE ITS ENERGY CONSUMPTION.
Surveillance in the broadest sense of the word, including intelligent building management, requires cameras with a wide field of view and low power consumption – and even, if possible, energy autonomy. This is the niche that Orioma, a young French start-up, has entered, having presented its first LOBX1 imager prototype at CES in Las Vegas last year. "In the smart building, studies show the need for compact and autonomous electronical devices ± to measure temperature, humidity, light, human occupation or noise, without cables and without maintenance", explains Philippe Ecrément, co-founder and CTO of Orioma.
At the time, he was an expert in embedded systems and cameras at STMicroelectronics. He joined forces with Serdar Manakli, a specialist in reducing the energy consumption of imaging devices, to start this new business, initially based on work by CEA-Leti on advanced SEEL (solutions for energy efficient lightning) infrared sensors. These are 128×128 pixel microbolometer arrays that embed artificial intelligence in the form of 128 interconnected processor cores. According to Orioma, this solution consumes five to seven times less energy than competing approaches, namely 9.8 mW at 50 frames per second. So little that the camera is able to be powered solely by the energy harvested. A second development program with CEA-Leti and CNRS will enable Orioma to reach the critical operating thresholds required by operators. "In the visible spectrum, there are already captems with equivalent or better performance, but these devices require batteries or cables and therefore do not meet our partners' energy requirements," says Philippe Ecrément. In addition, using the visible spectrum means limiting oneself to specific time slots, a fortiori in winter, and implies a possible identification of individuals which is contrary to the legislation of several countries. In contrast, an infrared device works day and night and respects privacy. "A thermal study carried out by a company specializing in the building industry has shown that the use of LOBX can reduce energy costs by about 26%" says Philippe Ecrément.
EXPECTED PROFITABILITY IN 2026
LOBX prototypes have won the i-Lab 2022 competition, in addition to financial support from Linksium, Bpifrance, the regional Easytech project and the Voironnais region via a zero-interest loan. "Around Grenoble, there is a very dynamic ecosystem in line with the current and future needs of the market; at the national level, the support of Bpifrance is very positive" says the CTO. Several rounds of financing are planned between now and 2024, in addition to the first sales also planned for next year. The start-up is currently recruiting (R&D engineers, technicians) and hopes that its approach based on energy efficiency will attract candidates. Its business model is based on the sale of complete LOBX cameras and an annual subscription to access the measurements. Profitability is expected in 2026, with prospects for development outside the smart building sector; however, the start-up does not rule out the possibility of partnerships aimed at exploiting its sensor alone. Orioma is continuing to work with partner laboratories on this sensor, with the aim of reducing energy consumption by a factor of five. Moreover, it continues to evaluate associated microcontrollers, to reduce the consumption of the communication interface and to make evolve the embedded artificial intelligence.
FRÉDÉRIC RÉMOND – ELECTRONICS MAGAZINE